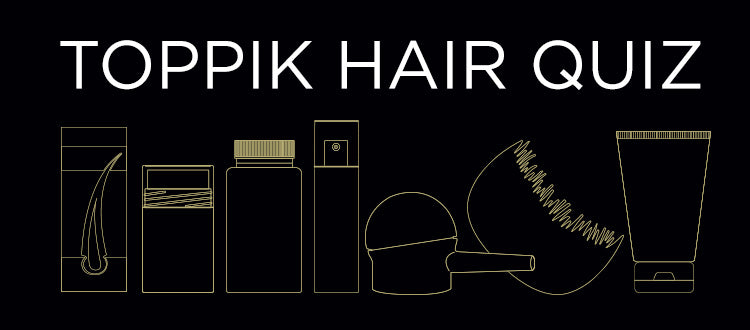 Find Out Which Toppik Products Are Right For You
You might be using the wrong products on your hair.
But don't worry, we're here to help.
It's always a good idea to go through your hair products every so often and reassess your hair needs. For instance, maybe you've been using a natural hair loss remedy for some time now, but you haven't seen the results you want. Or you could be using a cosmetic solution for hair loss, but what you actually need is a hair growth product for more permanent, longer-lasting results.
Discovering the right products for you can save your hair from falling out, and that's something we take very seriously at Toppik.
Toppik offers many solutions for thinning hair and hair loss, but we want to make sure you're using the correct product first. Knowing the differences between each product, and the type of hair loss you have, will make using our hair loss solutions that much easier.
In just a few questions, we'll tell you exactly which Toppik products are right for you…
Which hair products are right for you?
Follow your numbered answer to the Answers section below the quiz to see which Toppik hair product you should be using!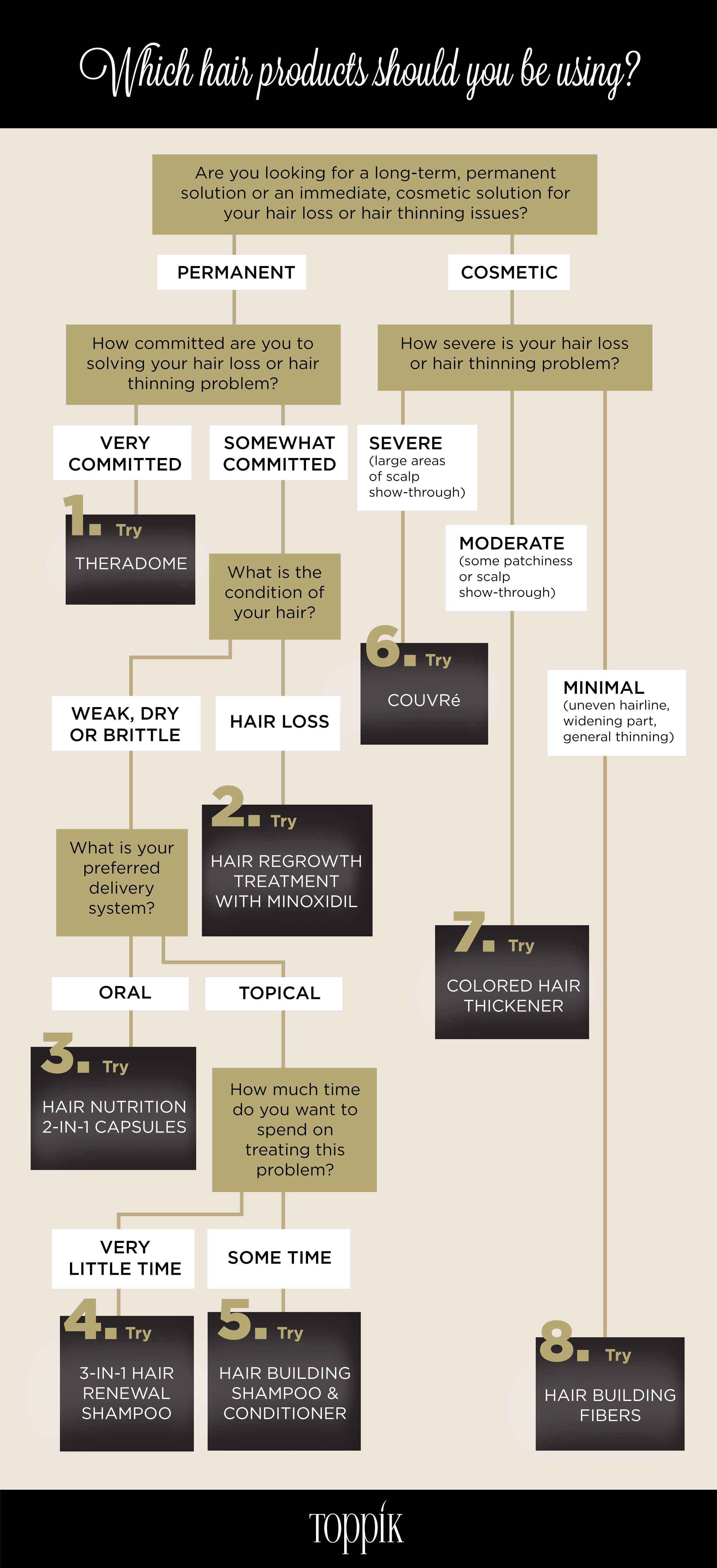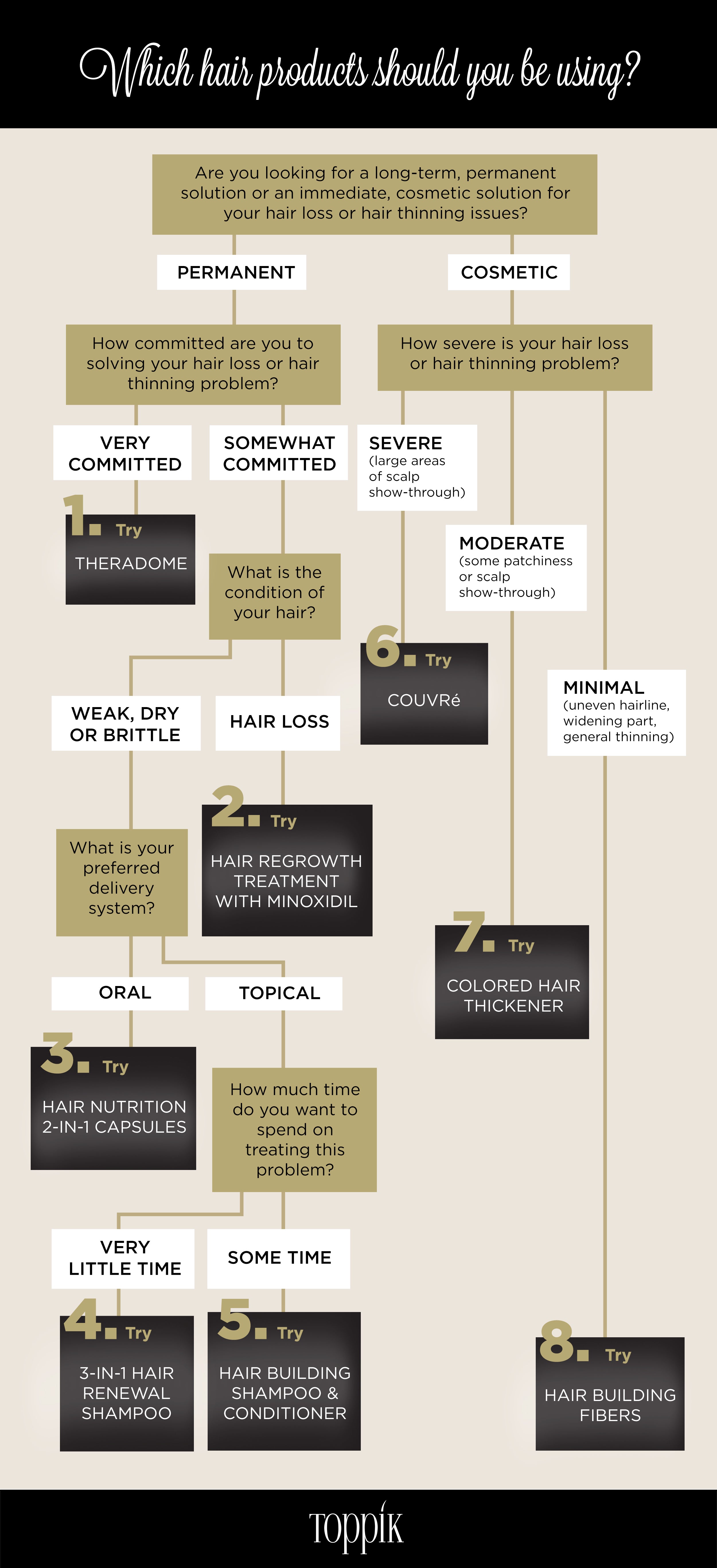 Answers
1. Theradome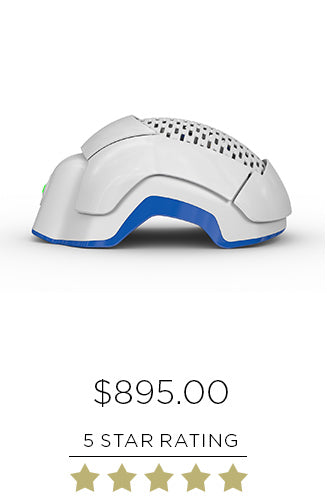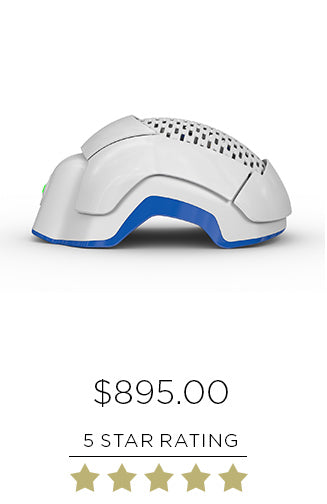 If you want a hair growth product that works, Theradome is the best solution for your hair needs. It will require dedication though, as it takes between 26-50 weeks to see thicker, healthier-looking hair. Theradome is the first FDA over-the-counter cleared, wearable clinical strength laser treatment. It slows down and minimizes hair loss, doubles the follicle size of existing hair, and grows new, healthy hair.
After 18-24 weeks, you'll begin to see less hair fallout, cleaner, more manageable hair, improved luster and fuller body, and decreased oiliness.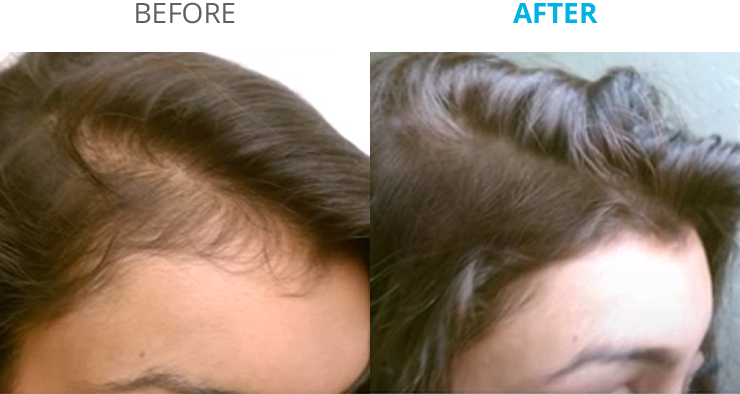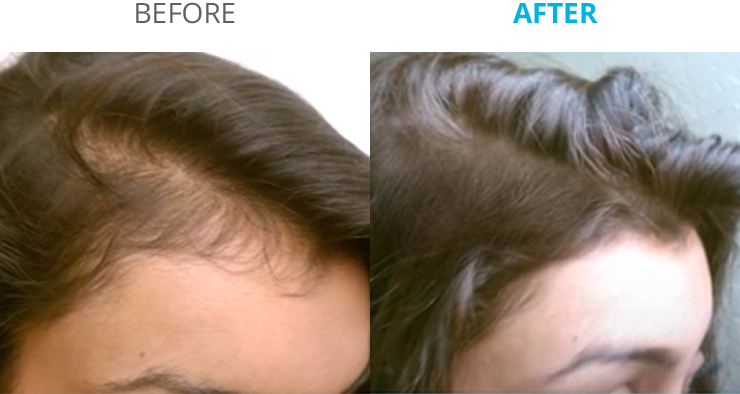 After 26-50 weeks, you'll see thicker, longer hair, a healthier scalp, and reduced scalp itching and irritation.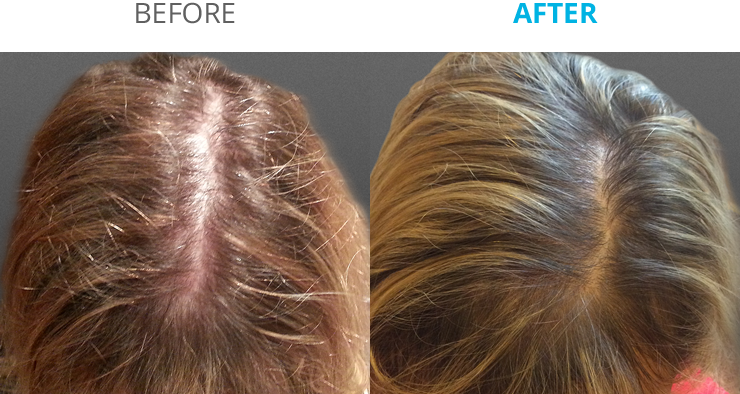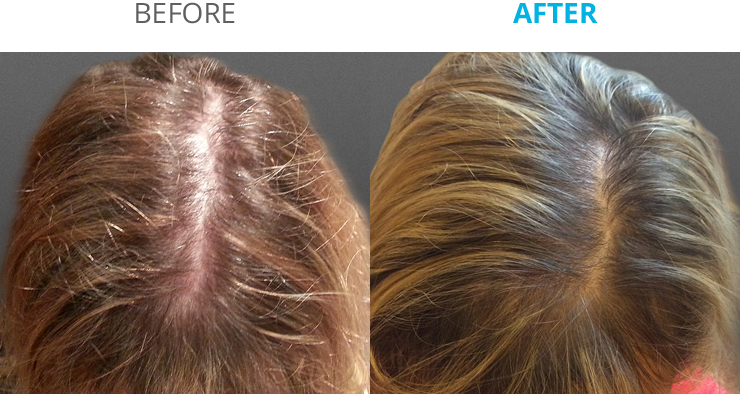 This product requires that you wear the Theradome helmet for 20 minutes a week, twice a week. You can wear it in the comfort of your home, and you can also supplement with Toppik Hair Building Fibers while your hair is in the process of regrowing.
2. Hair Regrowth Treatment with Minoxidil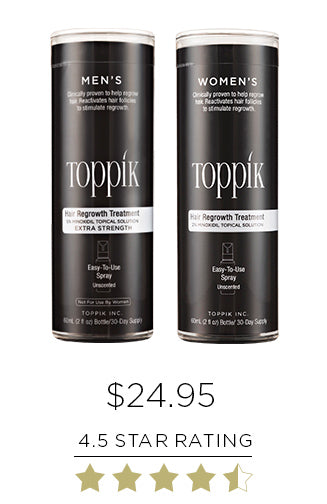 If your hair is falling out and you'd like a product that will help regrow hair, Toppik Hair Regrowth Treatment can help. While the commitment level required is lower than Theradome, Toppik Hair Regrowth Treatment still needs to be applied twice daily on the area of hair loss. The main ingredient, Minoxidil, is FDA-approved and clinically-proven to help regrow hair. You should start to see results in as little as 2-4 months, and continued use is necessary once you begin to see new hair growth.
3. Hair Nutrition 2-in-1 Capsules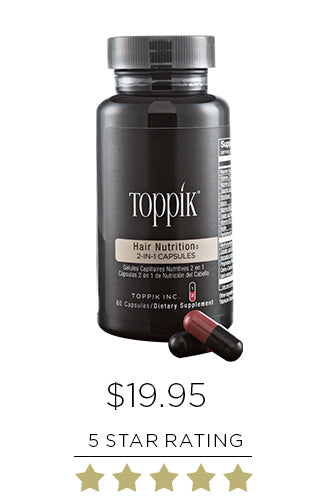 Toppik Hair Nutrition 2-in-1 Capsules are the perfect hair loss remedy if you're looking to nourish and strengthen your hair, but don't necessarily need a hair loss solution. They contain 2,500 mcg of Biotin per serving to support the hair shaft and revitalize weak and brittle hair. Keratin protein, Red Palm Oil, and Camu Camu also ensure essential nutrients are getting through to the hair shaft.
4. 3-in-1 Hair Renewal Shampoo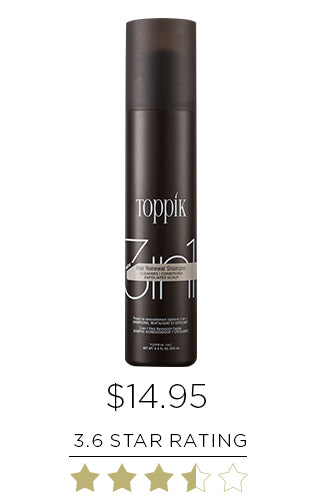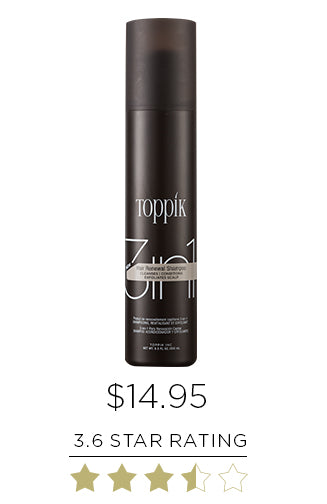 If you're constantly on the go but want to make sure your hair remains healthy, Toppik 3-in-1 Hair Renewal Shampoo is going to be your go-to. Its lightweight, anti-aging formula adds body, shine, and density to thinning hair, creating the optimal environment for healthy hair growth. This 3-in-1 Shampoo is the best preventative step to ensuring hair is always hydrated, nourished, and protected.
5. Hair Building Shampoo & Conditioner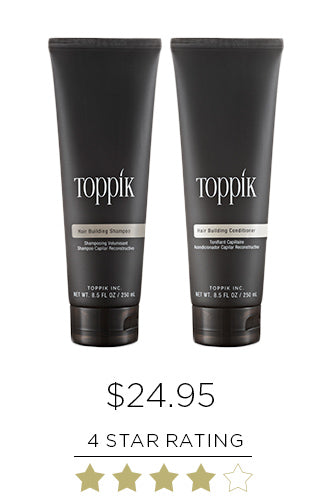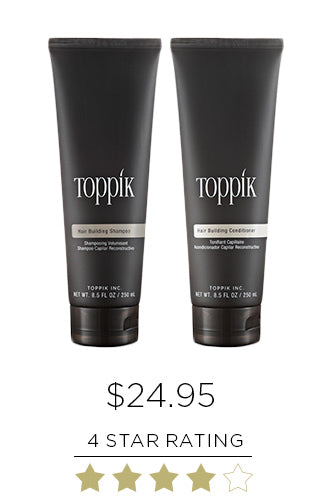 Not interested in a hair loss solution, but looking to protect your hair? Toppik Hair Building Shampoo and Conditioner is your answer. This duo helps strengthen, repair, and revitalize thin, thinning, or damaged hair while also nourishing hair so that it stays stronger, healthier and thicker-looking. It's sulfate-free and paraben-free, so you don't have to worry about protecting color-treated hair. For best results and to encourage hair regrowth, use this shampoo and conditioner daily!
6. COUVRé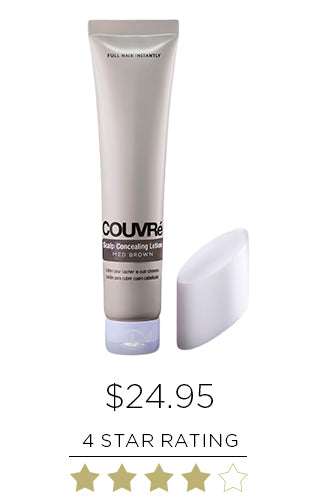 If you have severe hair loss or scalp show-through, COUVRé will help cover any thinning areas quickly and efficiently. This Scalp Concealing Lotion comes with a sponge applicator so you can apply evenly, and is available in five shades. It works by immediately eliminating the contrast between thinning hair and the scalp, so hair looks thicker and fuller. Unlike the products above, this hair loss remedy is immediate but temporary, and washes out easily with shampoo.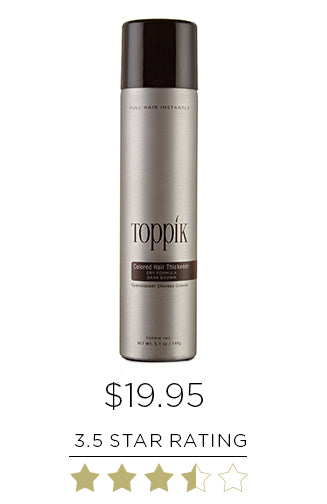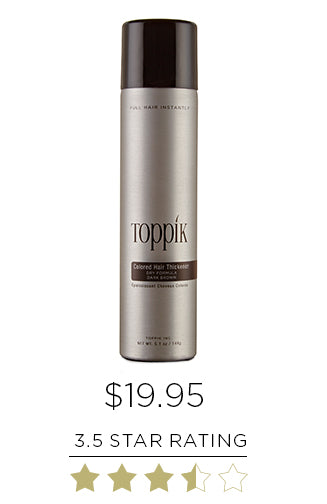 Toppik Colored Hair Thickener is a cosmetic solution for hair loss. If you have thin or thinning hair areas, and would prefer to use a spray for application, this is the Toppik product for you. It's designed to disguise areas of thin or thinning hair, scalp show-through, bald spots, and even root regrowth between color appointments. Unique pigments match your hair color and give the appearance of fuller, thicker hair instantly. It even removes easily with shampoo, so you can reapply as necessary.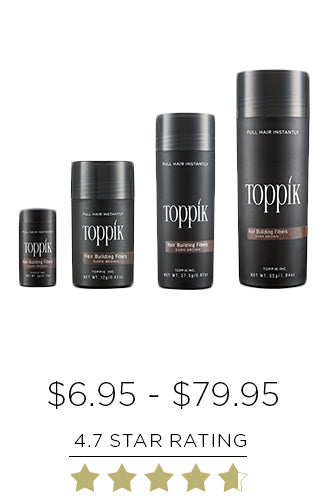 If you're looking for an immediate solution to smaller areas of thinning hair or hair loss, look no further than Toppik Hair Building Fibers. Toppik Hair Fibers cling to existing hair to create the appearance of fuller, thicker hair. Made of keratin protein, Toppik Hair Fibers are the most natural-looking Hair Fibers available. Depending on where you are applying, you can either shake or spray the Hair Fibers into your hair. Hair Fibers resist wind, rain, and perspiration but come out easily with shampoo.
Based on your hair needs, many of these products can also work well together! You might find that combining Toppik Colored Hair Thickener with Toppik Hair Building Fibers gives you just the right amount of coverage, or you may want to treat your hair loss but also cover up thinning areas until you see hair regrowth.
We've found that using Toppik products together can help create thicker, fuller hair immediately while also working to regrow hair permanently. Take a look at a couple of our other products that work well together to help create easy and effective hairstyles.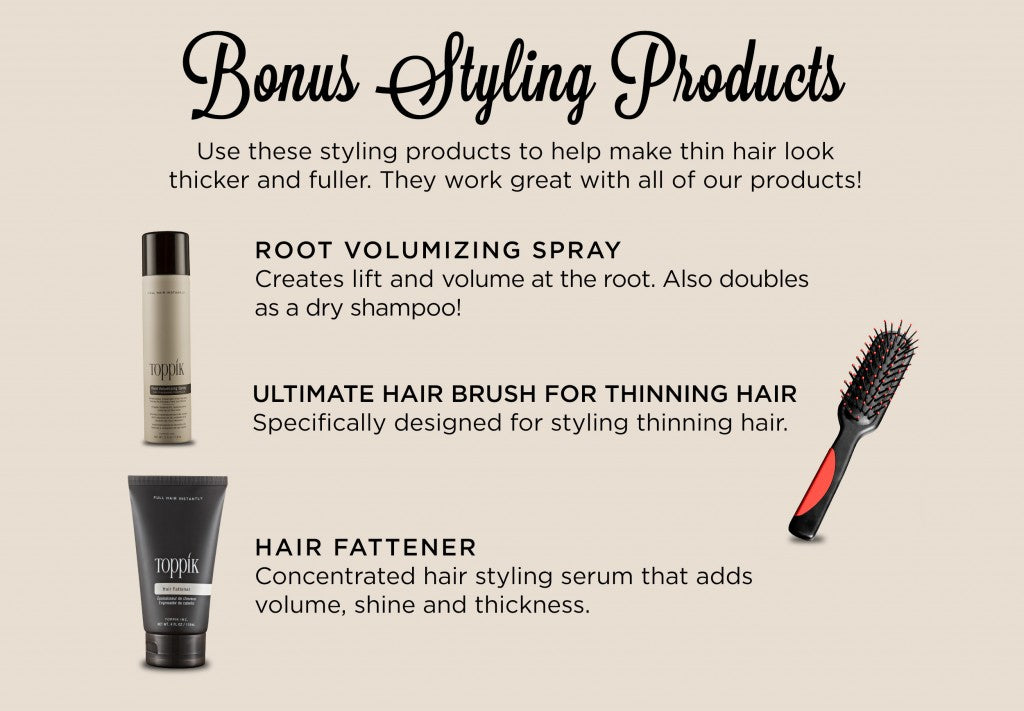 Have you been using the right Toppik products? Tell us in the comments section below which product is right for you after taking the Toppik hair quiz!
Stay In the Know
Hear what beauty blogger, Lauren Grisso, has to say about Toppik Brow Building Fibers next week on the blog, and don't miss her giveaway contest!
If you want to be the first to know about new posts to the Hair Toppiks Blog, sign up for the Toppik VIP list to receive an email a couple times per month or check us out on Facebook!