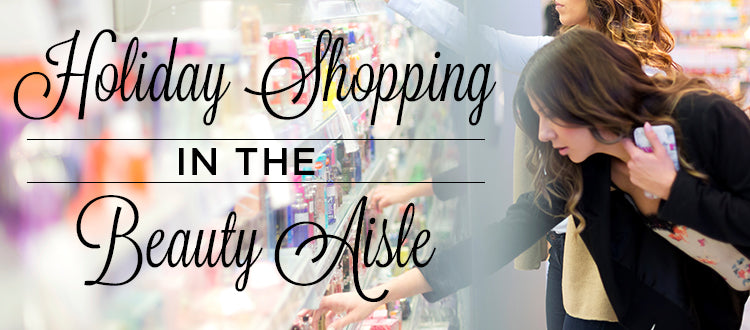 Be a Gift-Giving Hero this Holiday Season
The holidays are right around the corner, and that means gifts for the important people in your life, (and for yourself)!
Whether you love or hate holiday shopping, we want to make it easy and fun for you to snag the best beauty gifts and presents to give, and get, this holiday season.
We've consulted with some of our favorite beauty bloggers to compile a list of the shops sure to help you be a gift-giving hero this season and the brands to look for while browsing the beauty aisle.
And men, don't be scared off by this post! We've kept you in mind as well. We've dedicated a whole section to the brands women love and the gift ideas we think your significant other, sister, mom, cousin, etc. will love.
What we're really trying to say is, don't fret. We've got your back this holiday season.
…and if you find yourself nabbing an item or two for yourself, your secret will be safe with us!
Which Beauty Aisle is Best?
With so many department stores and retailers carrying beauty products these days, it's hard to know where to start.
Don't see this as overwhelming though, see it as more of a…luxury. Each store is unique in its own right, and serves a purpose: to help you find the best beauty products that you're searching for. For example, if finding the best hair tools is your goal, you might not want to shop at Nordstrom, but if upscale, prestige beauty products is what you're after, Nordstrom would be the perfect place for you to shop.
We've rounded up our personal favorite stores below, with pros and cons for each based on what you might be looking for.

Sally Beauty is the largest retailer of professional beauty supplies in the world, so if you're looking to step up your hair or nail game, this is the place to go. From hair extensions to salon equipment to every nail color under the sun, Sally Beauty is your one-stop shop. Need more reasons to shop here? Visit Sally Beauty's new customer page to see what else they carry in their stores.

For those who like both prestige and mass beauty products, Ulta is the largest beauty retailer in the United States. They carry cosmetics, fragrance, skin and hair care products, and they also have a large section dedicated to men's products. The best part about Ulta though is that they offer a full-service salon in every store that features hair, skin and brow services. Even if you've shopped at this retailer before, you may not have realized what makes Ulta unique.

Target is known as the store you walk into for one thing and end up walking out with 15 things you never wanted or even heard of before, (but obviously have to have). What many don't realize is that Target is also a great place to buy your beauty products. While the stores do cater to more mass brands, they have a surprisingly extensive selection of premium skin care products, both organic and dermatologist-recommended. If that's important to you, Target could be your new go-to for beauty and skin care products. To see what other beauty brands and products Target carries, read Buzzfeed's article, "17 Surprising Reasons Target is Actually the Best Place to Shop for Beauty Products."

Sephora is your go-to store for all things glam. If you're looking for mass brands, you've come to the wrong place. Sephora carries prestige brands that you may have not even heard of before. This is a place to test new brands, and the stores let you sample any product. We especially loved reading this excerpt from a Sephora employee on the best insider hacks she learned while working at one of the stores.

The cream of the crop in beauty products are located inside Nordstrom stores. While you'll find some of the same brands that are in Sephora and Ulta stores, here is where you'll go if upscale beauty products are something you need to have. Nordstrom also prides itself on offering a personalized beauty experience, and has configured its stores with you, the shopper, in mind.
Now that you know where to do your holiday shopping, find out which bloggers and websites will have the best gift guides to help you shop this season.
Bloggers with an Inside Scoop
While almost every blogger will be publishing some sort of gift guide this year, you can get ahead of your holiday shopping by knowing the right ones to follow.
We've picked out the below bloggers and websites because we know they'll show us where to find the best deals and offers this holiday season.
Lauren's team always puts together great gift guides, whether they're DIY, gifts for the hostess, or just gifts for "her." As someone who's built a Martha Stewart-esque empire in her own right, we've come to trust her recommendations and taste completely. We also appreciate that her gift guides feature a range of prices, from the inexpensive (DIY) to ones that are still moderately-priced. Get in the holiday shopping mood by reading her, "Holiday Gift Giving Etiquette," article and look out for a 2015 gift guide coming soon.
We like The Everygirl because it features well… a little bit of everything. Made up of a team of women focused on helping other women achieve their dreams, this lifestyle website pulls together some pretty great content. They've featured robust gift guides in the past, so we're looking forward to seeing what they'll put together this year. They've also created men's gift guides before, which is great when you need to shop for both genders at the same time.
Made up of a team of bloggers and editors, FashionBeans is a website dedicated to men's fashion, style and grooming, and everyday advice. We've featured their website before on previous blog posts and social media when referencing men's haircare. While you're anticipating this year's gift guide, take a look at their article on "What to spend on this season." We have no doubt that this website will point you in a good direction for the holiday shopping season.
More of a publication than an actual blogger, Details Magazine offers up everything from celebrities and entertainment to fashion and style advice, culture, and trends. We regularly frequent the website to catch up on the newest trend or story, and over time, we've come to trust their content and opinions. We're confident this website will help you find the ultimate gift this season.
Read on to learn more about the brands we love and the gifts the women in your life are looking for this year…
Brands We Love
We're looking at you, men! We've picked out the perfect brands to help make your holiday shopping a little easier this year.
Whether you're searching for clothes, beauty gifts, or accessories for the women in your life, we'll point you in the right direction to help you decide on the perfect gift.
First up, we don't know many women who don't like bath and body products. Two of our favorite brands, Philosophy and L'Occitane, offer stocking stuffers, holiday gift sets, and everything in-between. Both also have large fragrance selections, so your options are endless. Whether you're looking for body lotions, bath salts, perfumes, soaps, body oils, candles, or face masks, these brands will make sure the women receiving these gifts are impressed with your gift-giving skills this year!
Since we just launched our Brow Building Fibers Set, we're all about eyes and makeup this year, and we think two of the best beauty brands to purchase from are Bobbi Brown and Clinique. Bobbi Brown already has a holiday gift guide page, so you don't have to worry about spending countless hours trying to figure out the right present to get. If you're asking though, our personal favorite is the Ultimate Lip Gloss Set! On the other hand, Clinique is a veteran in the cosmetics world, so you can rest-assured that their makeup and skin care gifts will be a hit. For a little extra help, check out their gift sets page.
If fashion is important to her, try looking for cute hats and scarves first. These can sometimes be a little easier to purchase and "get right" than shirts, blouses and sweaters – and they're especially great for taking the size out of the guessing game! When cold weather clothes are on a gift list, we like to shop at J.Crew for their large assortment of hats and scarves. They also carry socks, gloves, and other cold weather accessories to round out the perfect winter presents.
You deserve a little something too! See how you can take home presents for yourself this holiday season.
Stuff Your Own Stocking
It's no secret that many people end up shopping for themselves while they're doing their holiday shopping. In fact, according to the National Retail Federation's holiday spending survey, shoppers are expected to spend around $130 on themselves this year.
You obviously want to look good for the holidays, and we want you to as well! Since Toppik specializes in products that make thin or thinning hair look thick and full again, we want to make sure you have great-looking hair for the holidays. Sign up for our VIP list now to find out what our Black Friday and Cyber Monday promotions are going to be. Trust us, you don't want to miss them!
Are you a professional gift giver, or do you slack off until the last minute? Share with us in the comments section below!
Stay In the Know
We hope we've helped make your holiday shopping a little easier this year, but check back with us next week as we share another Movember post featuring a few of our favorite barbers!
If you want to be the first to know about new posts to the Hair Toppiks Blog, sign up for the Toppik VIP list to receive an email a couple times per month or check us out on Facebook!