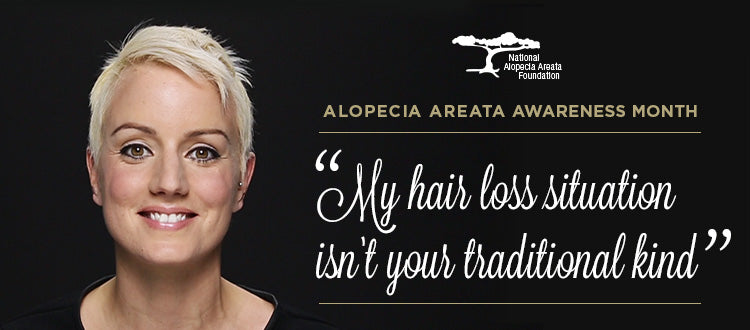 A Good Cause: Raising Awareness for Alopecia Areata
Each September we recognize a very important disease known as alopecia areata. In fact, as many as 145 million people worldwide struggle with alopecia areata, but there is hope.
Finding out that you have alopecia areata can be shocking, scary, and confusing – especially when many of those around you don't understand why you are losing so much hair.
Toppik wants to provide the facts and to help those who are struggling with this type of hair loss know that there are many ways you can cope and treat this disease.
You don't have to stop living your life because of alopecia areata, keep reading to find out what causes the disease, how to treat it, and get inspired by others who are going through a similar experience.
What is Alopecia Areata?
Alopecia actually means hair loss. When someone has the medical condition alopecia areata, it means his or her hair is falling out in round patches.
Alopecia areata is an autoimmune skin disease resulting in the loss of hair on the scalp and elsewhere on the body. It happens when a person's own immune system mistakenly attacks the hair follicles, which is where hair growth begins. The damage to the hair follicle isn't permanent, but this is what causes the hair to fall out. At this time, experts do not know why the immune system attacks the hair follicles.
There are three different kinds of hair loss: alopecia areata, alopecia totalis, and alopecia universalis. Alopecia areata is when hair loss falls out in patches, and can occur in men and women of all ages, but onset often occurs in childhood. Alopecia totalis occurs when someone loses all of his or her hair on the scalp, whereas when someone develops alopecia universalis, they lose hair on their entire body.
       alopecia totalis                                alopecia universalis 
Unfortunately this disease is highly unpredictable and usually cyclical in nature. Hair can grow back or fall out at any time, and the course of the disease is different for each person. This can be the most frustrating part, to never know when or how hair will grow back or if it will stay or fall out again.
Now that you understand more about alopecia areata, the next step is identifying what can potentially cause it, and the best solutions for treating the disease.
What are the Causes?
As we mentioned above, hair begins to fall out as a result of the immune system mistakenly attacking the hair follicles.
While experts don't know the exact cause of the attack on the hair follicles, they are able to tell who is more at risk for developing the disease.
Alopecia areata is not a strictly hereditary disease, but your risk of developing is slightly increased if you have a family member who also has the disease. This is because scientists believe that a combination of genes may predispose some people to the disease. There is an even greater chance of developing alopecia areata if a family member lost his or her first patch of hair before the age of thirty. In those that are genetically predisposed, it is thought that some trigger, most likely a virus or something in the person's environment, brings on the attack against the hair follicles. Overall, one in five people with the disease also have a family member who suffers from it.
Alopecia areata is also more likely to occur in people whose family members have other autoimmune diseases, such as type 1 diabetes, rheumatoid arthritis, thyroid disease, systemic lupus erythematosus, pernicious anemia, or Addison's disease. People who have alopecia areata are not usually at risk for developing other autoimmune diseases, but they do have a higher chance of developing thyroid disease, atopic eczema, nasal allergies, and asthma.
In total, alopecia areata affects nearly 2% of all Americans, regardless of sex, age, or ethnic background.
Is it Treatable?
Alopecia areata cannot be cured, but it can be treated.
Hair usually grows back within one year, but many do not want to wait that long for hair to return. Luckily, there are other options available for those who want to treat, cover, or hide thinning hair or hair loss.
The most common treatment for alopecia areata is injections of corticosteroids into the scalp every four to six weeks. Corticosteroids suppress the immune system, and are usually the first treatment tried by adults. This form of treatment can be taken as a shot or topically, but is more effective when it is given as an injection. Hair growth usually begins about four weeks after the last shot, but it can sometimes take longer than that.
Minoxidil can also be used to help regrow hair, but can only be used with corticosteroids if it is being taken topically. Minoxidil treatment for alopecia areata can be taken by adults or children twice a day, and can be used on the scalp, brows, or beard. With this type of treatment, new hair may start to grow in about three months.
For those that are able and who are only looking to hide their thinning hair or hair loss, Toppik Hair Fibers are a great solution and alternative to wearing a wig. The Hair Fibers are made of keratin protein and blend undetectably into hair, giving the look of fuller, thicker hair instantly. The best part about Toppik Hair Fibers is that they will stay in until hair is washed with shampoo. And they can also be used on beards to fill in any patchy areas!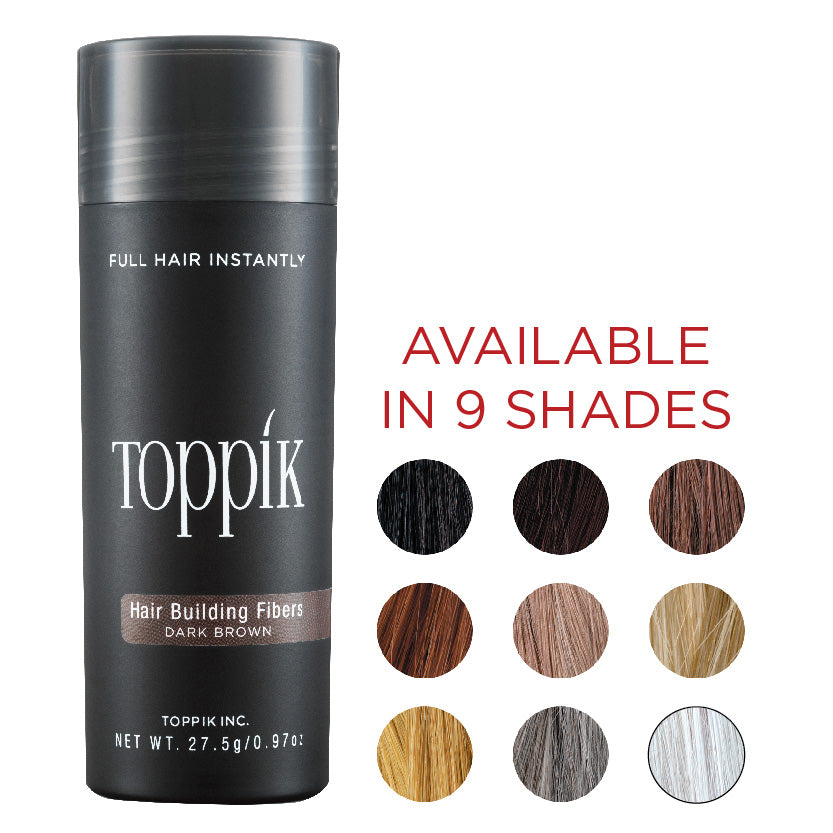 Zoe has alopecia areata, and was amazed that Toppik Hair Fibers were actually able to help her conceal her hair loss:
She's not the only one though, others suffering from alopecia areata have also found comfort and confidence again after using Toppik Hair Fibers, and we want to share some of those feel-good stories with you below…
We Love a Good Story
The most important thing to remember if your are struggling with this disease is that you are not alone.
There are some great resources and organizations out there that are dedicated to this cause and providing helpful information and resources.
Some of our favorites include:
These websites share personal stories, facts and information, and regularly schedule hangouts in cities all across the country so that people can connect and support one another. We came across the below video on the Women's Hair Loss Project website, and not only is this woman inspirational, but she's also brave for telling her story and encouraging others to do the same.
We also want to share this emotional video by Vogue, which features different women who have lost their hair, and how they view themselves after hair loss. Their stories are about beauty and finding oneself, and we love the positive message displayed in this video.
One organization that we haven't mentioned yet is the National Alopecia Areata Foundation, the biggest organization that helps millions of people everyday struggling with alopecia areata.
Help Raise Awareness with our Friends
The National Alopecia Areata Foundation was established in 1981 with one goal; to offer support to individuals affected by alopecia areata. Though their mission has expanded over the past two decades to include advocating for change and funding research to find a treatment or cure, the importance of providing a substantial support program to people of all ages and interests has not diminished.
The National Alopecia Areata Foundation offers many options to support and connect with others who have alopecia areata. You can join a support group, attend meetings, use the online message boards, or get set up with a pen pal. The support that is offered by the Foundation is endless, and continues to help those who don't want to go through this experience alone. That is why we're proud to work with the National Alopecia Areata Foundation.
When you call Toppik Customer Service at 1-800-844-2536 to place an order and mention, "NAAF," we will contribute 10% of the sale to the National Alopecia Areata Foundation.
Start raising awareness with us today by getting involved with the National Alopecia Areata Foundation, visiting one of the websites listed above, or sharing this blog post.
Do you have an inspirational story of your own? Share it with us in the comments section below, and we hope it will inspire others!
Stay In the Know
We hope you learned something new and will join our support for National Alopecia Areata Awareness Month. Next week we have a surprise coupon to share with you that you can use at your favorite retail store!
If you want to be the first to know about new posts to the Hair Toppiks Blog, sign up for the Toppik VIP list to receive an email a couple times per month or check us out on Facebook!