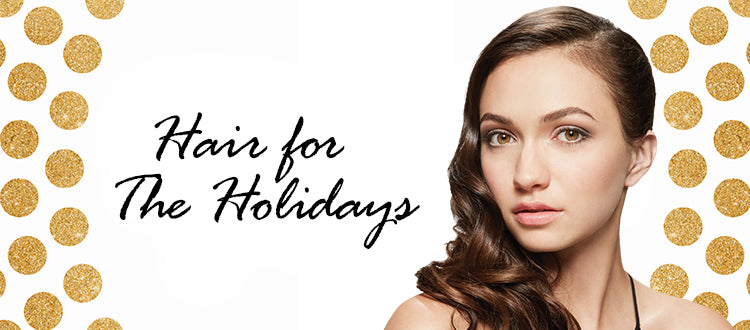 Learn How to Style the Best Looks for Thin Hair
Whether you've been naughty or nice this year, we think you deserve to feel and look your best this holiday season, and all year long!
There are office parties, family gatherings, gift exchanges – the list of holiday activities and people to see can be quite overwhelming this time of year.
There is no greater feeling than the confidence that comes when you know you look your best. So sit back, enjoy that eggnog, and let Toppik help you style a new look that will help boost your confidence and have you excited and eager to show off your new look!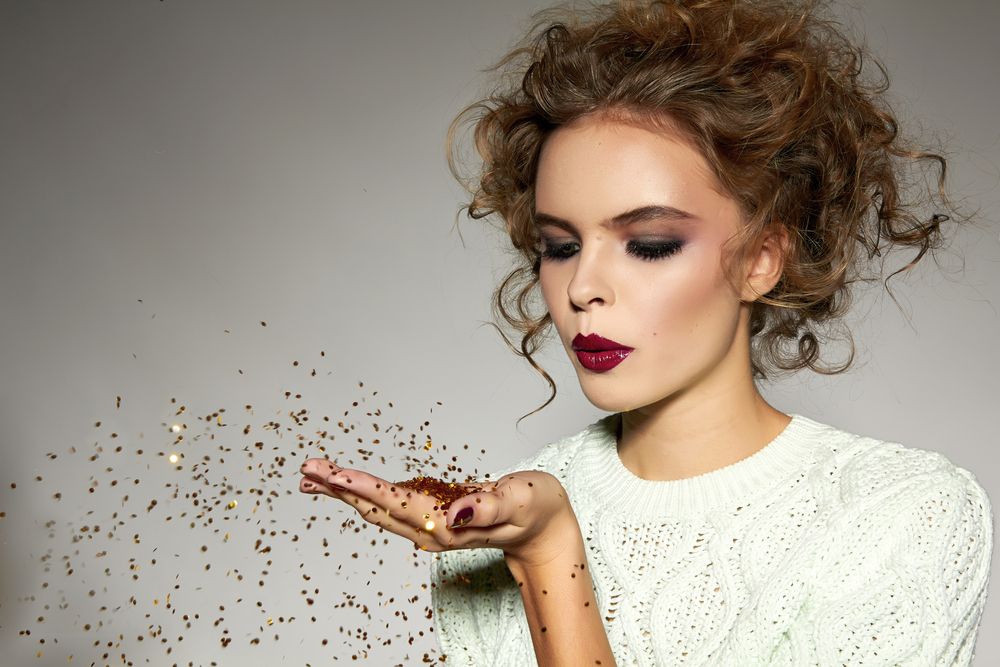 Continue reading to find out how to get glam, party-ready…
Hair Trends for Thin Hair
Having hair that is fine or thin can be challenging when it's time to style this season's trendiest holiday party looks. Have no fear, there are plenty of tricks and specific looks that work best on those of us with finer hair. Let's take a look at some of trends we like best this season, and why the work well for this hair type.

Side Parted Hairstyles
A great way to create fuller, more voluminous-looking hair is by parting your hair to the opposite side and having it layered on one shoulder. When hair is parted on the other side, it creates a natural appearance that it's thicker and volumized. Fill in areas on the part line or hairline that appear thin with Toppik Hair Building Fibers for added fullness.
 
Short Hairstyles with Texture
If your hair is cut into a short style, add some holiday flare by amping up the texture. This is the ideal time of year to change your look and try something new. Add texture by spraying Toppik Root Volumizing Spray into the roots of your hair after styling with a flat iron or curling iron.

Hair Accessories
Ornaments are not only for the tree during the holidays. Take attention away from thinning areas of your hair by accessorizing your style. From jewels to pearls, there are plenty of options when it comes to adding a piece of charm to your style. Check out some cute handmade hair accessories on Etsy.com.
Want to give one of these looks a try? Continue reading to learn how to style a glam side parted look using the Toppik Volume Styling Kit.
How to Style Thin Hair
The best way to add the appearance of fullness to any look when styling thin hair is by using products that are specially formulated to create volume. The Toppik Volume Styling Kit is the perfect 2-piece product set to help take your hair to new heights! Give your hair a boost with Hair Fattener Advanced Thickening Serum and Root Volumizing Spray— both included in the Kit.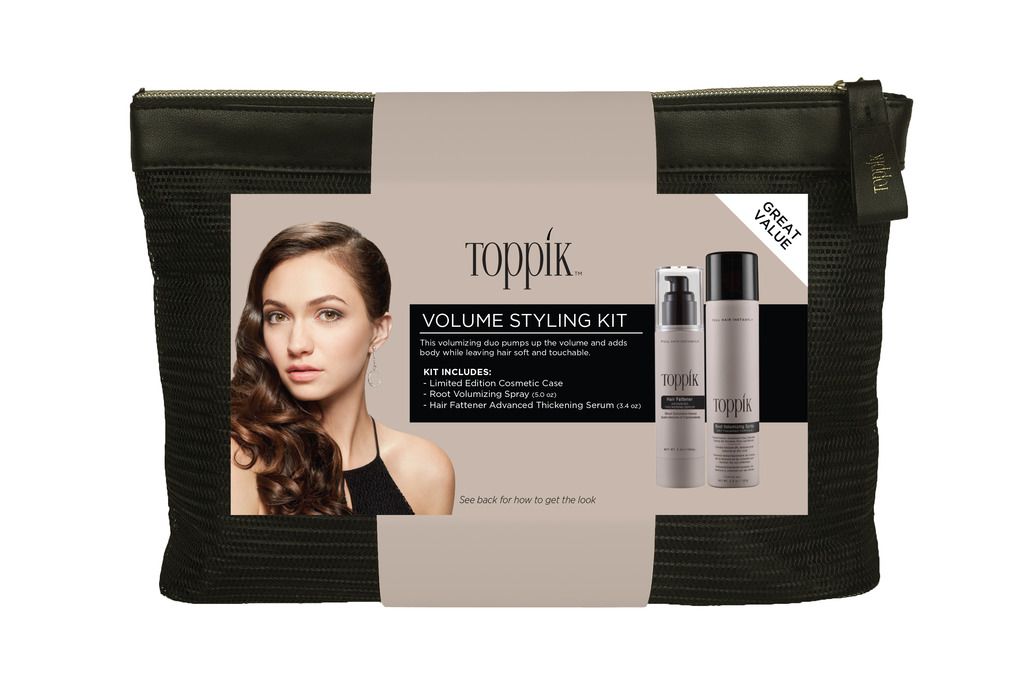 Glam Holiday Hair
The tools you will need: Round Brush, Comb, Blow Dryer, Hair Clips, Toppik Volume Styling Kit
1. Work a small amount of Hair Fattener Advanced Thickening Serum into clean, damp hair from roots to ends.
2. Create a deep side part and blow dry with a round brush.
3. Curl a 1-inch section of hair with a 2-inch curling iron.
4. Clip curled section to your head with a hair clip. Repeat steps 3 and 4 until you've curled all desired hair.
5. Shake can of Root Volumizing Spray.
6. Pull out a curl clip and spray underside of curled hair with Root Volumizing Spray, spraying 4-6 inches from the hair root. Repeat with remaining curls.
7. Allow to dry for a few seconds, brush hair out gently with a wide tooth comb or your fingers to create loose voluminous waves.
8. Use hair pins at the nape of the neck to pin hair to the side.
9. Spray with hairspray to set hair in place.
This video will show you how to get the look:
We hope this blog helped inspire you for your upcoming holiday affair! Save time and feel your best with the products in the Toppik Volumizing Styling Kit.
What's one thing you like to change about your look during the holiday season? Leave us a comment and share!
Stay In the Know
Next time on Hair Toppiks, we'll feed your brain with facts on the best foods to eat to prevent hair loss!
If you want to be the first to know about new posts to the Hair Toppiks Blog, sign up for theToppik VIP list to receive an email a couple times per month or check us out on Facebook,Instagram, YouTube, Twitter, or Pinterest!